There are almost as many ways to focus one's mind while cooking as there are humans who cook. I usually listen to music and let my train of thought ramble into ideas that should probably never come to life, like pairing recipes with music. For a while it was just social posts in the Riff's community group, but one fated evening this concept eventually turned into the following… Well, let's call it "review" of Ashenspire's Hostile Architecture. I will leave for my patient audience to judge of its relevance – or lack thereof 😉
Oh, and be warned ; I called this "food pairings" but it usually revolves more around wine than food. Sorry not sorry.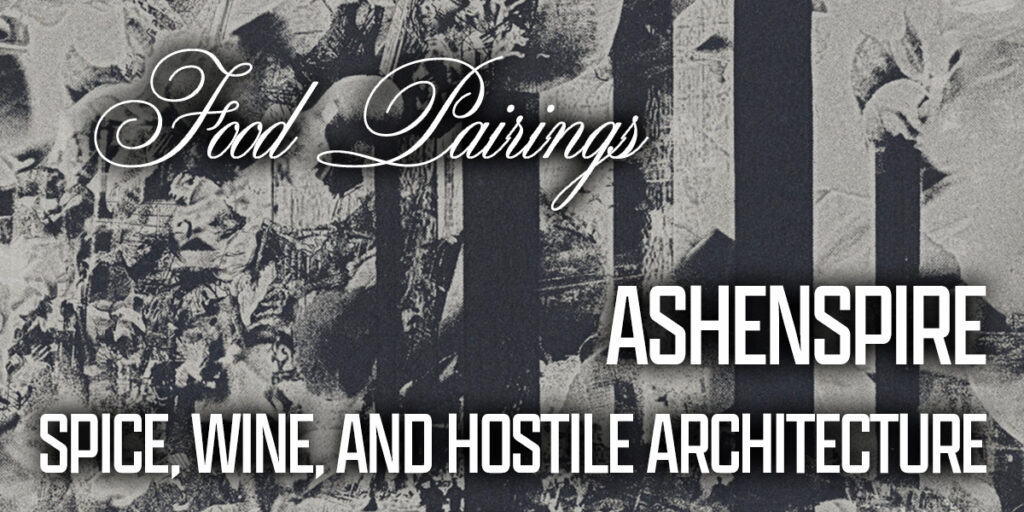 Let us open something that doesn't boast a fancy name or flashy titles and prizes, but is no less than a truly exceptional product. The output of a relatively young project driven by passion and craftsmanship, a strong and humble work ethos that is recognized as worthy among some prestigious authorities of its field.
Ashenspire's Hostile Architecture is one of these albums that, a priori, deliver the promise of something fun but manageable. On paper, Black Metal + Saxophone. White Ward, Étienne Pelosoff, Imperial Triumphant… I can handle that. Pretty much like a beautiful wine whose vivid amber reflections tell us it's a white one, maybe with a light touch of originality.
However, at the very first smell of Théodore Planas-Rastoin's "Clémentine" cuvée, you realize that what lives in your glass is anything but ordinary. White wine it is, but its flavours and vapours are most surprising. Théodore Planas-Rastoin is a winemaker, a baker and a farmer. An all-rounder creator who engaged since 2008 in a small-scale, sustainable and DIY enterprise that got his products served up to some Michelin-starred restaurants such as the Cheval Blanc at Lembach ( * * ) or the legendary Arpège ( * * * ).
Similarly, Ashenspire are seven young anarchist Scots with no initial money to rely on, strong creative intent and a grinding for artistic mastery that got their body of work to be cited by Bandcamp and others as one of the most important Metal releases of the year. And right at first sip, one gets why : it is an explosion of pepper, curry and citrus flavours. A wild Jazz made of acidity spurs and open riffs, upheld by a perfectly balanced palate tension and organic drumming.
Hostile Architecture is only Ashenspire's sophomore album but displays a bewildering maturity. They pull off a coherent journey between many demanding compositions made of pattern shifts, blasts, syncopated twists and hostile signatures so gracefully it sounds easy. The album is not Black/Death Metal with a Saxophone addition like an intellect-flattering shelf trophy ; it is a political Dark Jazz cabaret made of metallic riffs and arpeggios, of white grenache, savage winds, bourboulenc, panse muscade, guitars and violins living and breathing together all along.
Varied ingredients and liveliness, irreverence to genre canons, maturity and coherence… As a companion dish for all this my choice naturally goes to a red lentil Dahl. An highly flavoured and spicy meal that can – and should -be the terrain for twists and experiments.
As opposed to the wine and music we're paying hommage to, a Dahl is pretty easy to make and allows you to shine with just a little bit of planning. Here are some personal tips :
Add a good dose of spice (usually curry, curcuma, cumin, cilantro for me) right at the beginning with the onions and oil. Do not rush the onions, make them sauté at a moderately high setting so it takes 6 to 10 good minutes. They will only absorb the spice better and get softer when translucent. You want them to melt, and diffuse the flavours for the rest of the process.
First twist : add a fresh yellow pepper with the onion sauté to melt, absorb and diffuse spice as well. Yellow pepper is sweeter than its red and green cousins, handily counterbalancing the strength of curry and curcuma without cancelling any of it.
As opposed to almost every Internet recipe, do not pour the whole water quantity at once. You do not want to drown the explosive potential of what you've been building so far ; instead, patiently pour water one dip after the other, leaving time for the lentils' starch to deploy, build up structure, and not water down the flavours. Pretty much like you would do for a risotto.
Second twist : dill weed. Dill weed opens wide the flavour kingdom you are simmering there, and its bright and lightly pungent flavour will make the Dahl taste unique and memorable to any of your guests.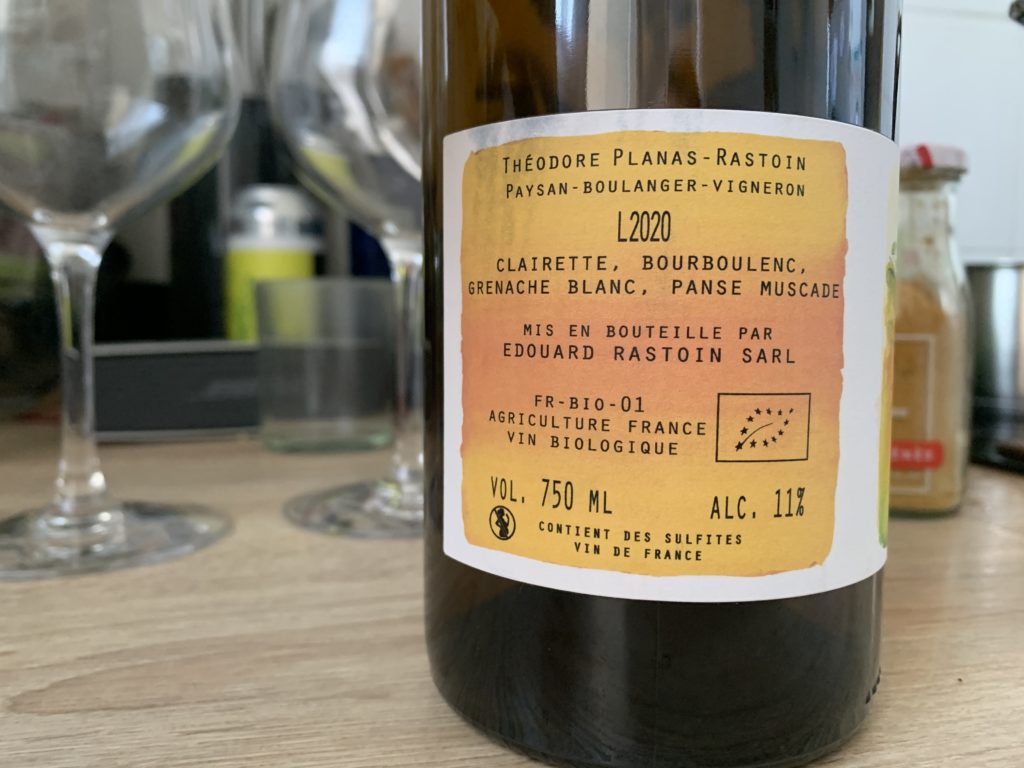 There you go : conversely to Ashenspire and Planas-Rastoin who built pieces of art and crafts that overturn well-known baselines to make something wild and explosive, you just twisted a strong and spicy dish with fresher and more open notes.
Now, you could ask : is that all there is to Hostile Architecture ? A fancy-ass wine & dine companion music for petit-bourgeois, contemplating the pittoresque spectacle of leftist music from the comfort of their home they paid with dad's fuckin' money ?
Well, first : watch your language. Second : cooking is not and should not be the apanage of the sophisticated and the wealthy – much as everything that was created by mankind, it actually never has been. This here is but one of many ways to share the real deal about Hostile Architecture with your close ones : putting the issues of toxic urban planning on the table. Anti-homeless benches, the Plattenbau complex misused as a symbolic worker-routine cage… And all that is barely hiding behind this : liberal capitalism slowly but brutally asserting dominance over the working class, promoting « individual freedom » as a pretext to disregard the basic human rights to housing and a decent living.
If – like me – you are not surrounded by leftists, handling these conversations can get very frustrating, by most accounts for a lack of common ground understanding, and internalized biases. Sharing a homemade meal with a hint of creativity might be a silly way to share a bit more about what's in Ashenspire's message, but a potentially effective one. Talleyrand allegedly said that « a diplomat's most valued auxiliary is undoubtedly his cook », laying grounds for a now centuries-old tradition of French gastronomy as a weapon of soft power.
Don't leave this to the rich and the powerful : cook, brew, taste, speak, fight. Share love by your own craft to deconstruct oppression, one meal at a time.