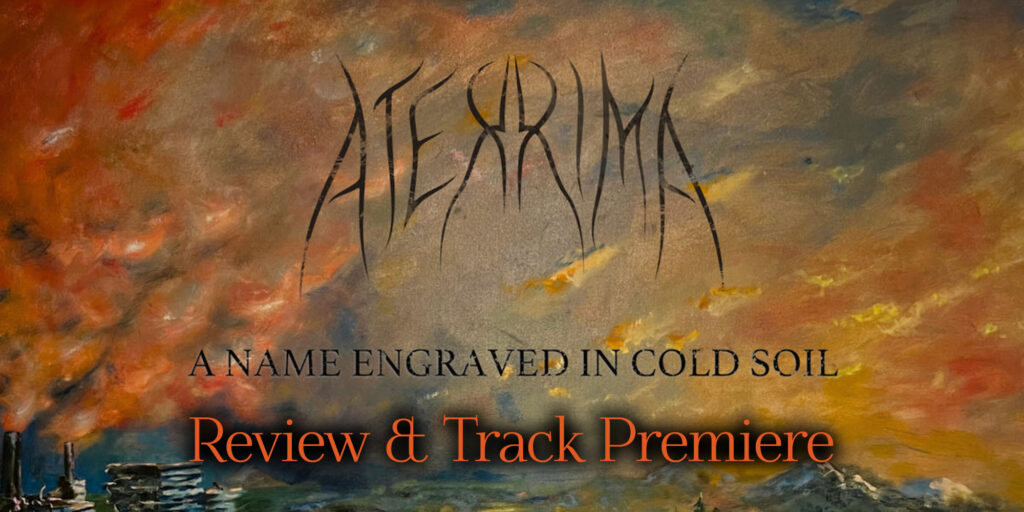 Welcome to the Riff ! You know, that blog trying to look like it's part of the grand "Metal" scene, but actully spends most of its (very sparse) writing time blabbering about post-punk, prog, drone, folk, nerdy-ass stuff and "roadburncore".
But not today. Today is the day Father will finally approve of me as I stop being a POSER : let's talk about fucking DEATH METAL as we proudly and loudly premiere 'The Pall', the new single from the upcoming debut album by Aterrima, A Name Engraved in Cold Soil !
May the most hipster corners of our audience stand reassured, Aterrima are no generic modern OSDM act : the trio from Boise, Idaho are deploying a breed of varied Death Metal drawing curls and lines in dissonance and harmony alike. A Name Engraved in Cold Soil could be labelled under the "Dissonant Death" general area, as it has sharp and technical structures, twists and turns and dissonant riffs. However, as opposed to many Dissodeath albums, it is not an endless maëlstrom of smothering brain aggression : between brutal riffs that would perfectly fit a Gorguts show, there is also breath and flow that reminds of early Opeth's atmospheres, and there is jazz all along – not in a perilous use of sax & brass, but in riffs, in rythms, in feeling.
The distinctive nature of Aterrima's sound undoubtedly comes from their intent as a band. A Name Engraved in Cold Soil is a manifest with a purpose, the one of materializing both the awe and fear that Nature inspires to our human's hearts : equally formidable, sheltering, ruthless, brutally heavy, mysterious, full of life that can – and will – fight back when under threat.
The Pall, the track we are presenting today, is Nature effectively fighting back : lurking, menacing Death Metal that eventually rises up and tramples you under blasting, trempicking and steamrolling basslines.
At the Riff, we usually talk much more often about Black Metal than Death Metal – whether that preserves us from being posers is a question for future historians with way too much time to spare. But with its broad dynamics backed by Stefano Morabito's mastering (coincidence ? maybe), its innate variety in riffs and feels and its primal energy, Aterrima's A Name Engraved in Cold Soil left us breathless and we just had to share what we see as one of the most exciting upcoming Metal releases.
A Name Engraved in Cold Soil will be out on December 8th in digital and tape format, through Fiadh Productions.