Here we are ; we survived another half-year within an increasingly fucked-up world, another half-year of skyrocketing temperatures and environmental catastrophe records broken in our leaders' general indifference, another half-year of steady sliding into illiberalism and normalization of outright fascism. Not much to rejoice about, I'll give you that.
In the midst of the swirling shitstorm I was talked into pulling off the "retrospective" exercise, at least to find a brief moment of comfort in writing, and looking back at some of the albums that made the biggest impact on me ; here are eight albums that might help you celebrate the fact that we survived another six months so far.
Happy midsummer ! \o/
Esben and the Witch – Hold Sacred
Modern Folk / Post-Rock – United Kingdom
Nostromo Records
Esben and the Witch are no newcomers but in my personal path, I had only vaguely heard about them when Roadburn Festival announced them on the bill. While I did quickly check them out, the maelström of gigs and clashes got me following a different path in the end, getting emotionally and physically crushed by another band.
Luckily I did catch them up in Paris a few weeks later ; even though I had no regrets about my choices in Tilburg, I felt I had missed something big.
I just had no idea how big.
The three people on that small boat venue, about the same age as me, mere dozens of centimeters away, delivered something that felt so sweet, so authentic, so perfectly imperfect I still get the thrills now, just writing about it. Rachel Davies' singing and presence is almost emotionally blinding ; every pitch, every inflexion in her voice comes from a place of experience and emotion. These three people have lived, they have fought, they had their hearts broken. They experienced redemption and recovery. Their performance encapsulates life in a deeply touching way. It is breath, and love.
I thought I'd only had so much time to check out their albums, but I found myself knowing every song of the set list – mixing most songs from Hold Sacred with older classics – by heart.
Hold Sacred is their most intimate and barebone record to date, and it will get into your flesh faster and deeper than you will realize at first. This is not only one of the strongest records of this first half of 2023, but one that will endure and remain a classic in the many years to come.
Listen (and buy if you will) on Bandcamp :
Dodheimsgard – Black Medium Current
Black Metal – Norway
Peaceville
Do I really need to go at length on this one ? Dodheimsgard are Metal legends and this newest record goes even farther into new directions for the genre, and every respectable media outlet already praised the beast. If you haven't obsessed over it already, what's wrong with you ?
Before you mute me off like the pretentious and prescriptive asshat that I am, I should point out that I am not a huge DHG fan and I only had moderate interest in their latest records – the last one that really blew me away was 666 Intl.
What changes with Black Medium Current is the approach ; more than wacky and unexpected explorations, the focus here is clearly put on balance and atmosphere. The album just flows. Clean vocals, clear grooves and delightfully funky riffs are so naturally woven into the most torrential trempicking and blast beat assaults that it feels like it's the only correct way to compose Black Metal.
Listen (and buy if you will) on Bandcamp :
Hasard – Malivore
Orchestral Black Metal – France
I, Voidhanger Records
Hazard is one of our best hidden, most precious treasures of French Black Metal. The fact that this fine young man has been around since 2001 with forward-thinking acts like Way to End, Pensées Nocturnes and his solo avant-garde gothic chamber music project Les Chants du Hasard should say enough to the scene aficionados.
For everyone else, know that Hazard's field specificity lies in his "classical", orchestral training ; but do not, by any means, expect some kind of cheesy "Symphonic Black Metal" here. The feeling and intent sounds much closer to the legendary scene Old Ones, Blut Aus Nord : in one word, Malivore is properly TERRIFYING.
I listen to a lot of evil, dissonant Black Metal. But this… This is on another level ; I challenge you to find anything more addictive than this spiralling, smothering, bleak avalanche of torments and malevolence.
Listen (and buy if you will) on Bandcamp :
Earth – Even Hell Has Its Heroes OST
Drone / Ambient Metal – USA
Independent
Those who read around here know that I quite like Earth. It goes without saying that 2023 could not have started off better than with this soundtrack being released on January 1st, and not leaving me ever since.
As the soundtrack to a documentary by director Clyde Petersen, dedicated to the 30+ year-long career of the band, Even Hell Has its Heroes logically does not bear the homogeneous nature and structure of Earth's albums ; the themes and sounds are varied and reflect the multiple facets of the band. It gets dronier than they've been in a long time, it gets groovy as in the heyday of Pentastar, it gets rough as Primitive and Deadly and stripped-down as Full Upon Her Burning Lips. It gets jazzy and grandiose by literally pulling off two new versions of The Bees Made Honey in the Lion's Skull.
But as always with Earth, there is this foundational ethos of terse and impacting songwriting : always serve the feeling, only play riffs that are worth looping over. Strive for simplicity through lifelong practice and refinement.
Even Hell Has Its Heroes is a celebration of everything Earth is. It needs not be swallowed as a whole album, but rather can be a companion to either fleeting or enduring moments, on the go and without constraints. It will get gradually into you no matter the path.
Listen (and buy if you will) on Bandcamp :
If you would like to learn more about Earth, or if you are a fan and are curious about another perspective on the band, here are further readings :
Lankum – False Lankum
Irish Folk – Ireland
Rough Trade Recordings
Lankum need no introduction at this point ; they gained widespread critical acclaim since their 2019 breakthrough album The Livelong Day and are a brilliant example of the liveliness and avant-garde aspects of deeply rooted Folk music.
For there is always duality in Lankum's work : the DNA of old standards re-appropriated in tones and ways influenced by much more recent music, original compositions and lyrics rooted in transgenerational life experience, tradition and experimentation. Tunes to sing along to, providing either deep community comfort, unsettling fear of life struggles, or both.
It is impossible not to get instantly hooked from the very first inflexions of Go Dig My Grave up until the very end of the album. Although Lankum themselves do not claim dominance over the music tradition they build on, defining themselves as a mere point of entry to the real deal, anyone can feel how they viscerally embody what Folk Music is about. They are the communion between the wisdom and sorrows of old ghosts, and the fire and hopes of living flesh.
Listen (and buy if you will) on Bandcamp :
Spirit Possession – Of The Sign…
Swirling ØÜGHS – USA
Profound Lore
ØÜGH.
Buy or Perish :
BIG|BRAVE – Nature Morte
Drone / Amplified Folk / Experimental – Canada
Thrill Jockey
Few bands hit me as hard as BIG|BRAVE recently. On the very first day of Roadburn 2022 I walked into the Terminal stage to enter their out-of-space capsule of drones and feelings, and I walked out permanently marked by this unique, tectonic, overpowering frailty. Seeing them one year later performing Nature Morte in full, this time on the Mainstage, felt just right and sealed the deal for BIG|BRAVE as one of my favourite bands.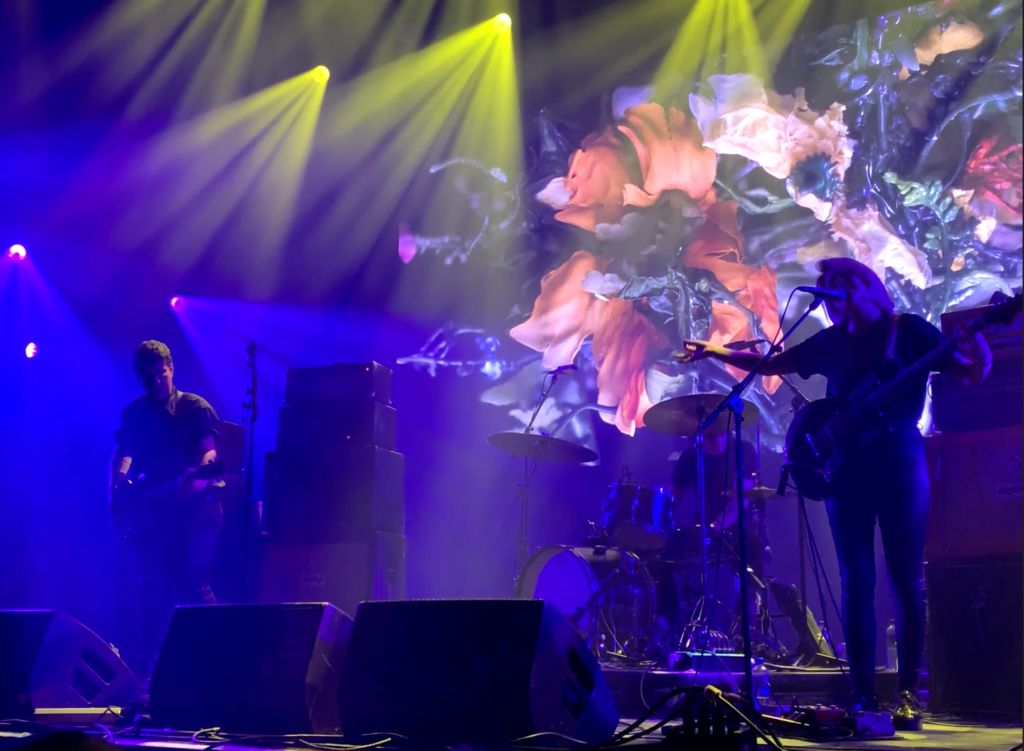 BIG|BRAVE are not Metal, but they do perform crushing wizardry with guitars, pedals and amps. They are not Drone-Doom or Post-Metal, yet they do hold long, deep and intense droning layers, they do build album-long crescendos and drop pummeling, vertigo-inducing payoffs. BIG|BRAVE are not Metal yet they sound and feel heavier than 90% of the Metal scene.
Nature Morte is noticeably less monolithic than the previous albums, but this newfound variety yields an even heavier impact. Along the bitter softness and the planetary crashdowns, there is no choice but to emotionally and consciously pay attention to what is being said. And what is said here was not written to cater to our blissful ignorance ; it is, in my view, what lies at the core of the almost inconceivable heaviness of BIG|BRAVE.
Nature Morte is a moment of grace. One that will not exactly make you comfortable, but one that should get you to think, and hopefully grow.
Listen (and buy if you will) on Bandcamp :
Fire-Toolz – I am upset because I see something that is not there.
Experimental / New Age Screamo – USA
Independent
For a solid number of years, my friends and I entertained a string of running jokes about the Fingercow. The Fingercow was originally a goofy 3D design made by Bill Graham back in the prehistoric age of late 1990s. To us, this design embodied a spirit of Kitsch, DIY creation, not taking itself too seriously but honest, skilled, off-conventions artistic work, fundamentally belonging to the most obscure corners of the Internet.
(So much so that it entirely disappeared from Google searches… If anyone finds them back please hit me up)
Angel Marcloid's Fire-Toolz caught my eye last year with her colourful visuals, immediately striking that kitschy Internet aesthetic chord ; what I heard did not disappoint. From a theoretical standpoint, one could try to picture collages and flows of vaporwave, screamo, breakdowns, synthetic breakbeats, the most grandiose 80s neo-prog vibes from Genesis, Marillion or early Dream Theater, along with abstract noise and sound patching, to get a sense of what is going on in there.
On a practical level, Fire-Toolz is a dazzling journey in untethered joy, out and about across over-the-top, unapologetic tackiness, robotic singularity and primal outbursts of the mind. I am upset because I see something that is not there is a train of thought you could have completely on your own, going for any ramblings no matter how absurd, and realizing that somewhere in the weird corners of the network there actually are humans who put in the time and skills to give flesh, bone and flashy colours to similar kinds of nonsense. And the very fact that this exists fills me with awe and hope.
Listen, buy if you will and spend the rest of your life in eternal wonder :