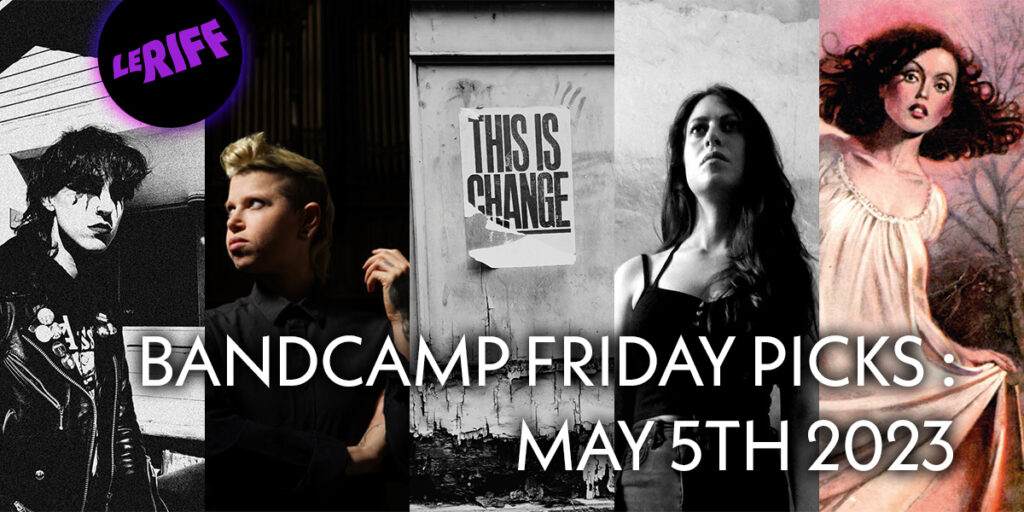 It's Bandcamp Friday again, and for once I wanted to do a quick and biased display of some references that certainly deserve your love and most importantly, your money. But before diving into the usual round of reccs, there is some business going on at Bandcamp that might be worth our attention.
Foreword : Bandcamp United
As you may know, in March 2022 Bandcamp was officially bought by Epic Games. While Epic Games' PR team and Bandcamp's founder and CEO Ethan Diamond both issued very well policed statements that Bandcamp's core product and its mission to offer a fair and open platform for artists would not go anywhere, there are far too many examples of smaller companies reduced to a mere set of features within the big machine's overall line of business, if not disappearing completely, to trust them by their word alone. Such examples are easily found in Epic Games' own recent history with the acquisition and shutdown of Houseparty.
I certainly cannot claim to guess what is going to happen to Bandcamp within Epic in the upcoming years. But there is at least one instance that can tell us more over time : the first workers' union is forming right now at Bandcamp, despite several legal and para-legal Union-busting attempts from Bandcamp's management – this fact alone speaks volumes on where Bandcamp could be headed. Having the direct word on what is happening from employees who care about the platform and the mission might provide an instructive counterpoint to what the company's PR office has to say. If you care about what Bandcamp offers to users and artists, you might want to follow Bandcamp United or even support them ; they are pretty clear in expressing what they need from the public.
Now that I made my annoying political statement, let's look at where we could spend our dime on this friday.
Non Serviam & Gallkrist – Split vol. II
Raw Atmospheric Black Metal / Anarchist Blackened Trip Hop – France / Japan / Norway
The good thing about obscure Black Metal (-ish) artists is their ridiculously quick output : French anarchists Non Serviam and the Japanese-born, Norwegian-based legend Viviankrist (from Gallhammer and a gazillion other projects worth more than your life) are releasing a second split.
This new volume further expands the duality of their respective sounds : Gallkrist's part is three tracks of the most malevolent, harsh sounding, rampant, oozing Black Metal there is, which conditions the listener's mind into Non Serviam's two-piece epic of occult trip-hop built in layers and fumes of ethereal voice lines and choral riffs : funneling the human mind through pain and utter darkness, into the undying light.
---
Lust Hag – Mistress in the Mirror
Sleazy Raw Black Metal – USA
This is one to enjoy all the way. While many acts in the niche of « solo bedroom Black Metal » sound very much alike, some stand out by unexpected genre-minglings or interesting melodic twists. Lust Hag for one, does it by taking it to the bedroom, quite literally.
Eleanor hails in vampyric howls from Montana and fiddles with raw Black Metal, punk hip-thrusts, nasty riffs and dreamy synths, all with a healthy mouthful of sleaze. Lust Hag is but one of her musical incarnations, probably the most instinctful and basic in terms of composition and production, and I'll be damned if you don't have fun spinning Mistress in the Mirror and feel scandalous while doing so.
In a scene where Black Metal doesn't really scare anyone any more, mastering the codes of Trveness from the likes of Venom, Bathory and early Immortal while being everything that scares the average GenX Black Metal bro is a feat both glorious to watch, and thrilling to hear : witchcraft, crusty goodness and filthy riffs in leather and stockings.
---
Atonia – Live at Roadburn 2022
Heavy Ritual Psych Trap – Belgium / UK / Israel
Almost exactly one year ago, I walked into Roadburn's Next Stage to gaze upon what looked like a modern ritual ; about ten(-ish) musicians on stage uttering deep mantras with guitars, saxophone and tribal drums and this mystical, possessed MC igniting the audience with her intense flow and harsh screaming.
I was witnessing Atonia, one of these magical commissioned collaborations fostered by this very unique festival : the union of Five the Hierophant's infectious doom-jazz, Wyatt E's all-powerful slow heavy psych, and Tomer Damsky a.k.a. MC Slice from experimental hip-hop / psychotrap madness Wackelkontakt. If – like me – you didn't even know that psychotrap existed, this association might sound far-fetched ; and yet Damsky's vocals perfectly incarnate the instrumental psychedelia, giving it flesh, bone and screams.
Let's be honest : if you were there too, you probably already bought it. If you were not, this is a one-of-a-kind experience on which you don't want to sleep.
---
Healthyliving – Songs of Abundance, Psalms of Grief
Noise Rock / Alt Rock / Doom / Grunge – Scotland
Healthyliving is one of these bands that make you fall in love at first listen. This trio from Edimburgh have it all ; the 90's alternative feel, the noisy guitars, the modern basslines and steamrolling doom riffs, the romantic bittersweetness and the heart-piercing, soul-mangling voice of Amaya López-Carromero (from Ashenspire and her solo endeavour Maud the Moth). What we have here is nothing less than a new breath in the closed circle of legendary bands like Marriages and Made Out of Babies.
Roadburn's artistic director and chief curator Walter Hoeijmakers certainly noticed the potential by booking them for the 2023 edition ; when your very first concert as a band happens at Roadburn, it means you are on to something interesting.
---
Möth Vision – This is Change
Ambient / Drone / Soundscapes – Germany
You might not have heard about this one. That's okay, but once you've walked across Linda's soundscapes, you will likely never leave them.
Guitars, pedals, reverb. This is apparently all a Möth needs to build these moments out of time, droning out into an emotional desert, carried away by crystalline arpeggios and echoing bottleneck feels. She self-describes on Bandcamp as "music for end credits", without specifying the end credits to what. I cannot claim to have a definitive answer but I certainly feel a soundtrack to a contemplative movie.
A moth might be a small, unnoticed life form within the swarming Internet biosphere ; but its vision turns out to be infinitely more clairvoyant that we humans would concede, looking into our most intimate moments and our brightest hopes by the tip of its fingers.
Bandcamp has grown a lot since 2009 ; it is now an established media and sales platform for bands and labels to haul merch, physical releases, visibility through Bandcamp Radios, Dailies and Monthlies or Livestreams, and hope to get some profit from it. Which is all great. But I sometimes find myself oblivious to what made me stick to this platform : the random exploration, that feeling when finding something that speaks to you, however confidential it is. Möth Vision is not exactly a random find for me ; but it comes from a place of creators and music lovers, and from a community. And it reminded me of that feel : connecting to what another human (or Moth, for that matter) has to say. Catch a bottle from the Ocean. This is what I primarily like about Bandcamp and what I'd like to see preserved, along with a better revenue model for artists.