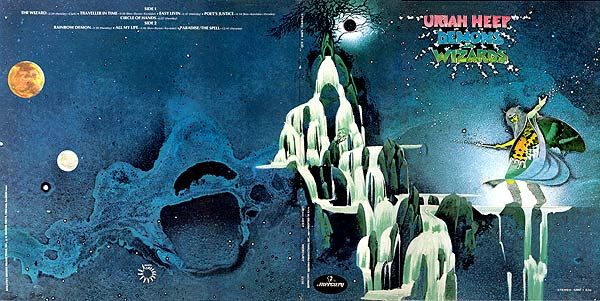 Artist : Uriah Heep
Origin : UK
Genre : Heavy Metal, Psychedelic Rock, Prog Rock, Hard Rock
Released on : may 19th, 1972
This is the english version. Pour lire la version française, cliquez ici
Music and Time have a weird relationship. While most albums bear the significance of their own time, some manage to stay relevant many decades after their release.
And some others, even less numerous, just feel like they've ALWAYS been here. No matter when they came out, and no matter when one stumbled upon it.
To me and my 90s-2000s upbringing Uriah Heep should feel charmingly old-fashioned, something that belongs in a flea market. A dusty vinyl pulled out of the attic, that I'd play on dad's old turntable out of curiosity and for the cover art's kitsch. Within the biblic times of 70s rock the Heep are a connoisseur's band, stuck in between Hendrix, the Doors, Yes and of course the unholy trinity Led Zep – Sabbath – Purple. Funny thing is, while Black Sabbath's "degenerate music" were originally slaughtered by the press regardless of their popular acclaim, the Heep were hit just as hard two years later… Because they were deemed to be mere "Black Sabbath imitators". Despite an almost equally great popular success, and despite the fact that nothing could be more wrong.
Having both heavy electric guitars and powerful riffs in the likes of the Zep' and the Sab', and keyboard magic that has nothing to envy to Deep Purple, Uriah Heep stand clearly apart from these three titans. They are a realm of their own, bright, melancholic and colourful.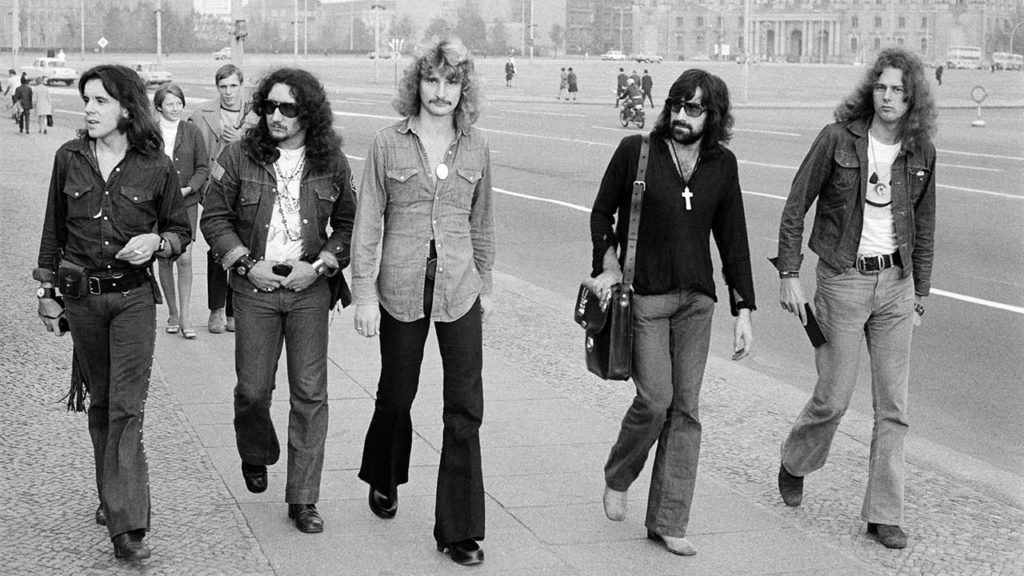 Demons & Wizards is their fourth and highest charting album, the one who would elevate to a "cult" status what would then be considered as the canonical quintet : guitarist and wah-wah pedal grandmaster Mick Box, Gary Thain's melodic bass guitar, drummer Lee Kerslake with his punchy and jazzy touch, keyboardist, main composer and absolute genius Kenneth Hensley, and of course the multi-octave, almost operatic singer David Byron. And the only word that comes to my mind to qualify the result of their artistic alchemy is "luminous".
The whole album exudes the fun they had composing and playing all these songs, all of them being instant classics. From the very first measures of The Wizard – the best tale song to be sung under the shower ever – to the The Spell's great shenanigans and through Easy Livin's juggernaut hymn, every piece is engraved in Heavy Metal's collective unconscious.
While they might remain in the shadow of their more successful contemporaries, enough major bands and artists – Blind Guardian, Queensrÿche, Dream Theater, Randy Rhoads, Queen, Ghost to name a few – claimed lineage to Uriah Heep to break the usual idea that the origin of Heavy Metal has a triumvirate. It was four aces, the Heep being the Ace of Hearts.
For this is what Demons & Wizards directly reaches : the heart. The album feels fun, melancholic, jubilatory, soothing and sparkling… Travelling in Time has no match to cheer you up in the morning, Circle of Hands is one to be sung along with friends over a campfire. This opus is a comforting friend, hugging you and telling you everything is going to be OK.
I only discovered Uriah Heep in my 30s – I am 35 at the time of writing – but everything in Demons & Wizards brings me to more ancient, familiar sensations. As if it has always been a part of me.
And I hope it is now a part of you too.